Bank survey suggests Scots economic recovery 'slows' in March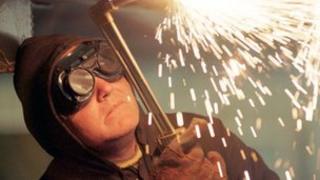 Growth in Scotland's private sector slowed at the end of the first quarter, the latest report from the Bank of Scotland's purchasing managers index (PMI) has found.
It indicated that the private sector economy expanded modestly in March.
The PMI said new work at Scots firms rose for the fourth month in a row but at the slowest rate of the quarter.
Meanwhile, a separate report blamed bad weather for a 3.8% drop in footfall in Scots shops, compared to March 2012.
The British Retail Consortium (BRC) said March's shopping figures were also down from the previous month but the situation in Scotland was better than the rest of the UK where shopper numbers fell by 5.2%.
According to the Bank of Scotland's PMI, job creation grew in March, at the fastest rate in eight months. Manufacturing and services companies were said to have recruited additional staff at modest rates.
The report's data for March points to a further rise in costs, thanks to higher fuel prices and a weak pound, but the bank said firms generally absorbed these costs.
Levels of new business increased at just a moderate pace in March, and slower than the rate of expansion recorded across the UK as a whole.
On the export front, Scottish manufacturers recorded no month-on-month change in the volume of sales to international clients.
The PMI is compiled from monthly replies to questionnaires sent to purchasing executives in about 600 manufacturing and service sector companies.
It registered at 51.1 for March, down from the 52.5 recorded for February. Anything above 50 constitutes growth, while 50 means no change and below 50 suggests economic contraction.
Donald MacRae, chief economist at Bank of Scotland, said: "The PMI for March showed the private sector of the Scottish economy recording a modest expansion.
"The level of new business rose, accompanied by an increase in the number of jobs in both manufacturing and service sectors. But export activity was unchanged in the month.
"Input-cost inflation was marked across all sectors. The PMI has now been above the no-growth level of 50 for six consecutive months, suggesting the Scottish economy is continuing its slow recovery from recession."