High street shoppers run for cover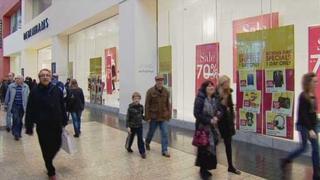 Bad weather last month led to a sharp drop in shopping on the high street, with covered shopping centres showing a much smaller decline, new figures suggest.
Snow and low temperatures caused a 3.8% drop in footfall in Scottish shops compared to March last year, the British Retail Consortium (BRC) said.
High streets were worst hit, with a 7% decline over the year.
Covered shopping centres performed better but still saw a fall of 2.4%.
The BRC figures also showed that footfall was down when compared to February, but the situation in Scotland was better than the rest of the UK where shopper numbers fell by 5.2%.
Second best
Scottish Retail Consortium director Fiona Moriarty said: "The coldest March for 50 years was to blame for putting off many Scottish shoppers, and measures up particularly badly against the much milder weather we had during the same month in 2012.
"Scottish footfall was above the UK average, but that makes it the second best of a bad bunch in a month when no areas showed growth.
"Retailers in Scotland will be hoping that the late onset of more Spring-like weather makes shopping trips and seasonal ranges more appealing to customers."
Diane Wehrle, a director of consumer analyst company Springboard, said media attention around the Budget and benefit reforms have hit consumer confidence.
"The final week of the month did yield some positive results, with retail park footfall significantly bolstered," she said.
"Home-owners took advantage of the long Easter bank holiday to visit DIY out-of-town outlets.
"It's key to bear in mind that March 2013 was much colder than in 2012, where most of the UK experienced unseasonable soaring temperatures, whereas rain, snow and bitter cold further encouraged shoppers to stay at home."
The BRC-Springboard footfall monitor gathers data on customer activity throughout the UK using automated doorway counters.
On average, the monitor records over 60 million footfall counts per week at about 600 locations, the BRC said.