Aberdeen shipping firm North Star wins £63m BP contract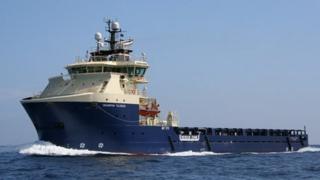 An Aberdeen-based shipping firm has won a £63m contract to support BP's operations in the North Sea.
Under the deal, North Star Shipping will provide tanker assist, platform supply and emergency and response rescue vessels.
The multi-service contract is for five years, with a possible five-year extension.
North Star Shipping is a division of shipping and energy services firm The Craig Group.
Four vessels are being contracted for the deal - the Grampian Talisker, Grampian Frontier, Grampian Conquest and Grampian Dee.
A fifth vessel may be added later.
North Star now has a total of 35 vessels in service.
'Long relationship'
North Star managing director Callum Bruce said: "The award of this contract strengthens our relationship with BP who we have worked with for over 25 years.
"We continue to invest heavily in our fleet which has cemented our position as the largest British wholly-owned fleet engaged in the UK offshore industry."
BP's UK logistics infrastructure manager, Mark Hardie, said the contract was part of BP's long-term marine strategy to support its UK offshore operations.
"BP has enjoyed a long and successful working relationship with North Star which has provided us with the confidence to widen and extend the service they provide to our business," he added.