Biotech firm Life Technologies bought by Thermo Fisher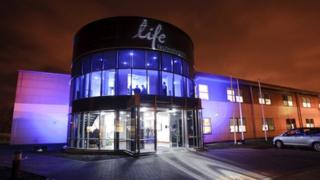 A major employer in Scotland's life sciences sector has been bought by an American precision healthcare equipment company.
Life Technologies Corporation was sold to Thermo Fisher Scientific in a deal worth about $13.6bn (£8.9bn).
California-based Life Technologies employs more than 500 workers at its base in Inchinnan, Renfrewshire.
The site acts as the company's headquarters for Europe, the Middle East and Africa.
It specialises in making cell culture products used for biological drug research, development and production.
Life Technologies and Thermo Fisher Scientific said the deal would create an "unrivalled leader in serving research, specialty diagnostics and applied markets".
A year ago, Life Technologies announced it was investing £12.5m into its Renfrewshire base.
At the time, the group said the investment would strengthen its position as a "partner to pharmaceutical companies developing biological therapies".