Scottish shop sales defy poor March weather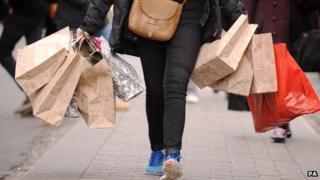 Strong sales last month rounded off the best quarterly performance by Scottish shops for two years, according to new figures.
The Scottish Retail Consortium (SRC) said total sales rose year-on-year by 1.8%, despite poor weather.
Food sales were 5.2% up on March last year but non-food sales fell by 1.4%, dragged down by cold weather which hit clothing and footwear.
SRC described the figures as "a decent showing".
Sales growth in Scotland still lags behind the UK as a whole, which recorded a 3.7% rise on March last year.
SRC director general Fiona Moriarty said last month's chilly conditions spelled bad news for fashion retailers, putting demand for the new season's clothing and footwear ranges on ice for much of the month.
Food fared better, partly because family and friends got together to celebrate Easter.
'Respectable result'
"This is a respectable result considering the impact of the coldest March for 50 years," said Ms Moriarty.
"But we need to bear in mind that the Easter weekend flatters the figures, as it fell in March this year but April in 2012.
"With no Bank Holiday boost on offer this April, Scottish retailers will be hoping that growth doesn't go in the other direction after such a promising start to the year."
The growth in sales last month came despite figures released this week which suggested a sharp drop in footfall on the high street in Scotland.
Snow and low temperatures caused a 3.8% drop in shopper numbers compared with March last year, the British Retail Consortium (BRC) said.
High streets were worst hit, with a 7% decline over the year.
Covered shopping centres performed better but still saw a fall of 2.4%.