Redevelopment plans for former Diageo plant in Kilmarnock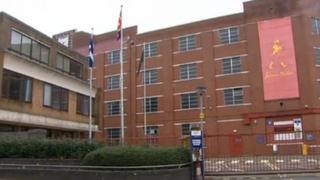 An Ayrshire property development company is moving ahead with plans to redevelop the site of the former Diageo bottling plant in Kilmarnock.
It follows an agreement signed between the drinks giant and Kilmarnock-based Klin Group.
Klin plans to create a "dynamic new quarter" for the town centre, based around education, health, community sports and culture.
It will now consult with the local community over its proposals.
They include a year-round, all-weather venue for sporting, conferencing and entertainment events.
Diageo, which closed its bottling plant in 2012, has already gifted 10 acres at the site to Kilmarnock College for the development of a new campus, with work due to start in August.
The exclusivity agreement with Klin relates to the remaining 23 acres of the site at Hill Street and Balmoral Road.
'Thrilled'
Klin Group chief executive Marie Macklin said: "As a local company, we are thrilled to have this opportunity to create something special for Kilmarnock.
"The exclusivity agreement with Diageo enables us to press ahead with local consultations, to explore the feasibility and the detail of what we envisage for the site.
"We are confident that what we are proposing is deliverable, though we still have a lot of challenges, and a lot of hard work to do in engaging both public and private sector interests in creating a sustainable development that the community can be proud of."
Ms Macklin added that its proposals would link into the work of Kilmarnock College, in particular, and local schools in general.
Diageo Scotland managing director Bryan Donaghey said: "We are pleased that Klin Group, a local Kilmarnock business, has come forward with plans to engage the local community in a development plan with the aim of creating long-term positive benefit for the area.
"Diageo is very happy to support this potential development by making the land available subject to the plans meeting with local community approval and we wish Klin every success with putting the project together."