Scottish unemployment down by 11,000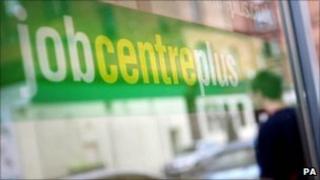 Unemployment in Scotland has fallen below 200,000 for the first time in more than three years, according to the latest figures.
Office for National Statistics (ONS) data showed the number of people out of work fell by 11,000 between December and February to stand at 197,000.
The Scottish jobless rate is 7.3% - below the UK average of 7.9%.
Employment in Scotland increased by 39,000 over the period to reach just over 2.5 million.
It was the biggest rise recorded in 12 years.
In the UK as a whole, unemployment rose by 70,000 to 2.56 million.
Meanwhile, the number of people claiming Job Seeker's Allowance (JSA) in Scotland fell by 600 from February to 136,600 in March - 6,700 fewer than a year ago.
The job figures were released as official data showed that the Scottish economy grew by 0.5% in the final three months of 2012.
That contrasted with a contraction in the UK economy as a whole of 0.3% during the same period.
'Positive outlook'
Scottish Secretary Michael Moore said: "Today's figures show further signs of a positive outlook for employment opportunities in Scotland and they are important news for each and every person who has moved into a job.
"There is more to be done, but we should be encouraged by the increase in those moving into employment and the government will continue to work hard to balance the economy and get more people back into work."
Welcoming the figures, Finance Secretary John Swinney commented: "Scotland now has a higher employment rate and lower unemployment rate than the UK, stronger economic growth and youth unemployment figures that continue to improve and outperform the UK."
"Today Scottish Power has announced its intention to create thousands of jobs in the West of Scotland and this is testament to our skills base and is welcome news for the area.
"We can build on these figures for the future but we can't allow the UK government's economic policies to derail the positive developments we are seeing in Scotland."
'Hardest hit'
Scottish Labour finance spokesman Ken Macintosh said any signs of improvement in the jobs market in Scotland were to be welcomed but added there was "so much more that this government could and should be doing".
He said: "Scottish women and young people are disproportionately affected by this recession, and the growth in the numbers of long-term unemployed will leave a scar for years to come.
"This is the same group who are being hit hardest by underemployment, so they desperately need access to training and part-time college places to keep their skills updated and help them into work."