Deloitte: Prolonged winter subdued North Sea activity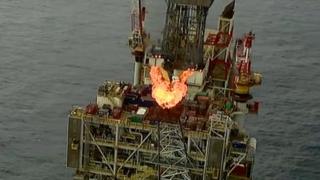 North Sea activity was subdued by the UK's prolonged winter after a strong finish to 2012, a report has concluded.
Business advisory firm Deloitte said the amount of drilling, as well as the number of oil and gas field deals on the UK Continental Shelf, levelled out in the first quarter of this year.
Nine new wells were drilled, compared to 19 in the last quarter of 2012.
However, Deloitte predicted an increase in drilling and deals throughout the rest of this year.
Farm-in agreements, where a company takes a stake in another company's field, were a key part of deals activity offshore the UK in the first quarter of this year.
They accounted for 36% of deals completed following the recent 27th licensing round, which brought new entrants to the UK Continental Shelf.
First-quarter deal activity overall was slightly down on the same period last year, with 19 deals compared to 23.
Field developments
Field developments have also remained steady, according to the report.
During the first quarter of 2013, two fields secured approval from the Department of Energy and Climate Change (DECC), with three fields coming on-stream.
For the same period in 2012, four fields were approved, while none was brought on-stream.
Of the five fields that have received approval or come on-stream this quarter, four qualify for the small field tax allowance and one qualifies for the ultra-heavy oilfield allowance.
Derek Henderson, senior partner at Deloitte in Aberdeen, said confidence in the North Sea was still high thanks to government tax incentives.
He added: "Generally activity eases during the first quarter each year and, based on the second half of last year, we would certainly expect later spring and summer to demonstrate a return to the kind of momentum we saw then.
"The oil price is still favourable and there are an increased number of incentives to encourage investment in North Sea exploration and development."