Rangers movie: The Whyte Stuff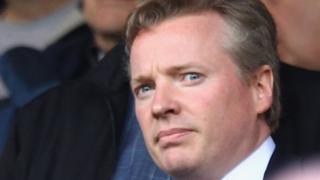 There's an endless supply of barely-known or shell companies and international connections with which Craig Whyte can keep the Rangers' plates spinning, more than a year since he lost control of the club.
And in case money runs tight for burgeoning legal bills, there's the possibility of getting funding through the money markets.
Forgive me if this seems a tad tedious - if, for instance, you think there's more to life than football - but it's a story that gets ever more eye-popping and surreal.
On Wednesday, we learned of a new way that Mr Whyte, the former chairman of the Ibrox club, can have a go at Charles Green, the man who led the purchase of club assets from administrators last year.
Worthington, a small company that has nothing much to do with beer, announced it is buying quarter of a clutch of companies under the umbrella of Law Financial Limited (LFL). Worthington has an option on buying the whole company, for a total £1m.
One of LFL's directors is Craig Whyte, while there is also a directorship residing with a Florida-based company, Gold Manson.
Craig Whyte has or had a 7% stake in Worthington. The company's pension fund put £2.9m into Rangers before it went into administration. This was described last year as being the subject of litigation, along with a statement that Craig Whyte had nothing to do with the investment decision or the running of Worthington.
But then, there was the appointment as a Worthington director of someone who appears to have worked for one of Mr Whyte's other companies (also in a lot of trouble), Merchant Capital.
'Case to answer'
Under LFL, we are told, are two companies that ought to be well known to those who have followed the Ibrox saga; Sevco 5088 and Sevco Scotland, set up by Charles Green as vehicles to buy Rangers assets.
The Worthington statement to the London Stock Exchange lets it be known that the confusion between these two companies is at the heart of a legal battle Craig Whyte believes he can pursue against the current Ibrox management.
Here's the crucial bit:
"The assets of Sevco 5088 Ltd include a claim, which has been independently reviewed by leading counsel who is also a deputy High Court judge, to all of the business and assets of RFC 2012 Plc which were purchased by Sevco 5088 Limited or Sevco Scotland Ltd from the administrators of RFC 2012 plc in June of 2012.
"Sevco Scotland Ltd was subsequently renamed The Rangers Football Club Limited and its share capital was acquired by Rangers International Football Club Plc, the shares of which are now traded on AIM (the Alternative Investment Market, in London).
"It is the position of Sevco 5088 Ltd that it is the rightful owner of the business and those assets. After examination of the evidence, leading counsel's advice is that there is a prima facie case to answer".
In other words, Craig Whyte thinks he's got ownership of both of the companies that may have controlled Rangers' assets when they were sold by the administrators last year.
Claiming to have documentary evidence that Charles Green signed up Craig Whyte to a Sevco directorship, Whyte disputes the right of Mr Green to transform Sevco Scotland into a new entity and to take away control of the club.
Craig Whyte: the Movie
It looks like good news for the lawyers, at least. And how are they to be funded? That's where LFL's new owners come in, getting into the growing market of litigation funding - that is, raising risk capital with the prospect of a big share of eventual pay-outs.
For the non-lawyers among us, the statement holds out the prospect of 'Craig Whyte: the Movie', a stocking-filler book for a future Christmas at Ibrox, and, of course, a reality TV format.
LFL is to have assets transferred to it, "including the book, film and television rights to the two takeovers of The Rangers Football Club in 2011 and 2012 as it relates to Craig Whyte. It is intended that these rights will be commercialised in due course".
It's not clear if another company has the shoot-'em-up computer game rights, or the merchandising of Craig Whyte cuddly toys. That's for another day, and yet another twist in this tale.
By the way, shares in Rangers International Football Club (chief executive: Charles Green) were trading on Wednesday at 62 pence. That's 11% below the price at which they were sold to fans last December, and nearly one third below their January peak.