Fall in Scottish business orders and optimism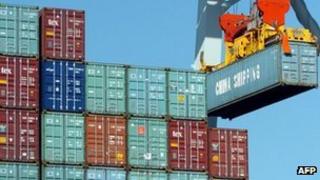 New orders and business optimism in Scotland have fallen, although there has been a slight rise in exports, according to a survey by the CBI.
The latest data showed the total volume of orders declined for the fourth successive quarter, with the increase in overseas sales failing to outweigh the drop in the domestic market.
Scottish manufacturers reported that costs were up over the past three months.
Investment intentions are mixed.
The CBI's latest Scottish Industrial Trends Survey found that orders had fallen.
Growth is expected to resume over the coming three months, although firms expect both domestic and export prices to rise over the same period.
While optimism over the general business situation has dipped further, confidence has risen over the potential for exports in the year ahead.
CBI Scotland's director, Iain McMillan, said: "There is no getting away from the fact that these latest findings are disappointing, with the slight growth in exports more than outweighed by the continuing marked decline in new domestic orders.
"That said, the short-term outlook looks better."
He added: "While ultimately the success or otherwise of Scottish industry is in its own hands, both the UK and Scottish administrations can assist by keeping a tight lid on costs that affect firms and by making it easier for companies to compete, invest and export."