Ian Marchant: philosopher chief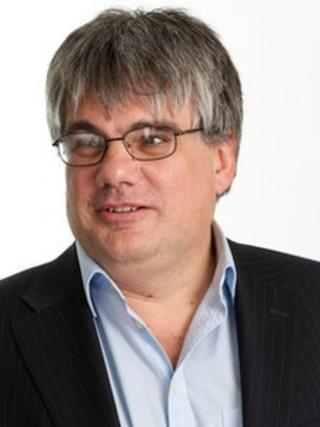 You only occasionally get insights into the thinking of the captains of industry.
More often than not, they have a prepared line to take, and fear thinking out loud for fear of how an original thought might affect those dreaded stakeholders, not least shareholders. For Gerald Ratner, they recall, it was all over in one sentence.
Ian Marchant is different. For 11 years atop SSE, he's been, by turns, amiably combative and unusually thoughtful. But he's rarely said much in public, either on-message or off.
However, with only a few weeks before he stands down, he sat down with me at the company's Perth training centre for the first long-format interview he's done.
He didn't shy from using the words "sorry" and "deeply ashamed" when we discussed the mis-selling scandal that has cost SSE dear, in a record fine and moreso in its reputation.
But the word he used most was "philosophical"; about his approach to what went wrong and how to address it, about the problem of overpaid top executives, and about the big challenges facing the energy market.
Later this year, after "decompressing", he's keen to move into a mixed portfolio of roles, none of them running a large company. He recalls having had a place in teacher training college, but trying out accountancy instead. And 30 years later, he wants to return to teaching, at university level, of business, the energy business in particular, and with his philosophical twist.
Fragile conversations
Marchant is well suited to the case study method of business teaching, starting with his own analysis of what went wrong at SSE: "fragile conversations" between sales staff and customers; a dispersed workforce; failing to realise how much expectations of corporate behaviour rose after the banking crash; the wrong incentives for staff, who trusted the sales staff to tell them what was really going on rather than what they thought managers wanted to hear; and meanwhile, warning signs went unheeded.
It's like working at height, he suggested; you fail to clip on, you fail to notice that safety rules have tightened, the bosses accept your assurance that all's well, and you fail to take action when you have a few minor slips. The result; fatality.
And, he asked me, how many other business foul-ups follow the same pattern? The BBC's Jimmy Savile nightmare, for instance?
In academe, Marchant could also be someone to make sense of the huge challenges facing the energy sector and government in charting a course through the next 10 or so years of making policy to ensure investment in the energy market.
Marchant points to three factors making it increasingly hard to keep the lights on: demand for electricity has fallen for an unprecedented four years, making it uneconomic to run power stations, so SSE has closed some; yet at the same time, power stations have to be shut down as they run out of carbon emitting licences; and with capacity sharply down as a result, there's a hiatus in building new plant while Whitehall delays a decision on the levels at which it's going to guarantee strike prices, or floor prices, for different types of generation.
Government patsies
That's apart from the tightness of capital, in the wake of the financial crisis.
In the meantime, as bills rise, energy companies continue to face the ire of customers.
Partly, that's down to the rising cost of generation, of transmission, of social tariffs and environmental levies. All are heading in one direction. The other half of energy costs - the fuel itself - is more likely than not also to remain on an upward trajectory.
Why is it, I asked, have the power firms meekly accepted the government's requirement to deliver Whitehall policy on the shift to lower carbon and renewable power, while funding energy efficiency measures, smart metering and the social tariffs that support poorer customers?
They're all worth having, replied Marchant, even if the social tariffs would be better delivered through the tax and benefit system.
But if the companies look like they've been patsies for taking on responsibility for some of the hottest of Whitehall policies, it's because they've failed to get their house sufficiently in order to resist.