Preferred bidder named for Scottish Coal assets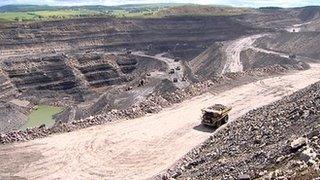 Liquidators for collapsed open cast mining firm Scottish Coal have named a preferred bidder for some of its assets.
KPMG said it had chosen County Durham-based Hargreaves Services as the best way of resuming operations and bringing mining jobs back to the coal fields.
The liquidators did not specify which assets were involved.
Scottish Coal, which operated six open cast mines across Scotland, folded last month with the loss of 600 jobs.
Earlier this year, Hargreaves bought the rights to take over the assets of Scotland's second biggest open-cast mining firm, ATH Resources, which was put into administration in December.
The sector has been in crisis because of a slump in coal prices.
KPMG chose energy and waste group Hargreaves as preferred bidder for "various" Scottish Coal assets after considering a number of offers.
In a statement, KPMG said: "Following consideration of the offers received, the interim liquidators will now be working with Hargreaves to finalise the acquisition of various properties, plant and equipment and stocks owned by the companies."
The sale is expected to take between four and six weeks to complete.
Joint liquidator Blair Nimmo said: "These developments represent a positive step forward in our efforts to find the best possible way to resume mining and return employment to the affected areas, and in doing so help both communities and families.
"In the meantime, discussions with a variety of stakeholders including the Scottish government and local authorities will continue in relation to various complex site related issues."
Hargreaves chief executive Gordon Banham said his company was pleased to have the opportunity to help rebuild a future for one of Scotland's traditional industries.
He added: "We remain fully committed to investing to create a successful and sustainable mining business in Scotland that is founded upon profitable sites that are operated in an environmentally responsible fashion."
Scottish Coal operated open cast mines in Ayrshire, Lanarkshire and Fife.
A taskforce was set up after it collapsed in a bid to protect as many jobs as possible.
The group included representatives of affected councils, the Coal Authority, unions, the Scottish government, environmental agency Sepa and the UK government.