Scottish housing market 'continuing to grow'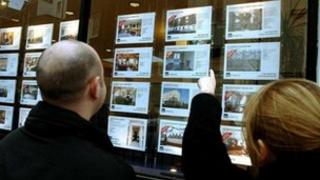 The Scottish housing market continued to show "encouraging" growth last month, with further rises in sales and inquiries, surveyors have said.
The Royal Institution of Chartered Surveyors (Rics) said new buyer inquiries and newly agreed sales rose for the third consecutive month.
Surveyors also remained upbeat about house prices in the months ahead.
More than a quarter predicted prices will rise over the next year, while just one in 20 believed they will fall.
The Rics housing survey followed a number of other reports released this week that suggest Scotland's economy is showing signs of recovery.
Bank of Scotland recorded a rise in business activity and employment in April, Scotland's three main airports saw more passengers last month than at the same time a year ago, and Aberdeen Chamber of Commerce reported a rise in investment and activity in North Sea oil and gas last year.
The Rics survey said: "For the first time since mid-2011, the new buyer inquiries and newly agreed sales series remained positive for the third consecutive month.
"A net balance of 3% more chartered surveyors reported a rise in new buyer inquiries, teamed with a net balance of 6% more surveyors reporting an increase in newly agreed sales.
"Near-term price expectations are broadly flat, with a net balance of only 5% more chartered surveyors reporting a likely fall in prices over the next three months. More significantly, the longer-term outlook suggests a more upbeat picture for house prices, with a net balance of 28% more surveyors predicting a rise in prices over the next 12 months.
"This is the most positive reading since July 2010. Surveyors responding to the survey suggest that, on average, house prices are likely to rise by 1.5% over this period."
Rics Scotland director Sarah Speirs said while it was encouraging that the housing market appeared to be moving away from the highly negative figures witnessed in previous years, activity was still much lower than the pre-crisis norm.
She added: "Action is required to increase finance and give the market the real thrust that is required."
Thomas Baird, registered valuer at Select Surveyors in Glasgow, said: "We are expecting the number of property sales to increase over the next six months and a slight increase in valuation to reflect this.
"The number of home report instructions remains steady and again we would anticipate an increase over the summer months."
Tenant demand in Scotland also remains robust, according to Rics, with a quarter more surveyors reporting an increase in rent expectations over the next three months.