RBS shareholders back remuneration report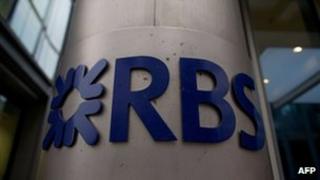 Royal Bank of Scotland (RBS) has said 99% of shareholders who voted at its annual general meeting in Edinburgh approved its remuneration report.
There had been warnings of discontent over £607m of staff bonuses awarded during a year when it lost £5.2bn.
Payouts by the 81% state-owned bank angered investors after a "chastening" 2012.
But at the AGM the bank argued it was on a stronger footing and all resolutions were passed.
Ahead of the meeting, shareholder advisory body Pirc called for investors to reject its pay report over excessive rewards.
It said: "The bottom line is that the bank, similarly to its major competitors, has a remuneration structure which can lead to excessive pay."
Bonus pot
Bosses also said the bank should be ready for a return to the private sector by next year.
In 2012, RBS said it sought to "put right past mistakes" as it aside money to cover PPI mis-selling, the mis-selling of interest rate swaps and its fine for attempting to fix Libor.
Earlier this month, it swung out of the red with pre-tax profits of £826m for the first three months - its best performance since the third quarter of 2011.
Chief executive Stephen Hester said: "The clean-up of RBS can be accomplished under our own steam in the next year, year and a half.
"I think we will be substantially done next year."
That could see the Treasury begin selling its stake in the bank next year.
While its £607m bonus pool in 2012 was down 23% on £789m a year earlier, it included £215m for investment bankers.
However, the bank said it was recouping £302m for its Libor settlement by cutting the 2012 bonus pot, clawing back from previous years and reducing current year awards.
At the general meeting in Edinburgh, RBS was also expecting to face questions over an IT meltdown last summer which locked up to 17 million customers out of their accounts.
Toxic assets
City watchdog the Financial Conduct Authority (FCA) has started a probe into the fiasco in June and July last year, which saw payments go awry, wages appear to go missing and home purchases and holidays interrupted.
The glitch affected customers of RBS, NatWest and Ulster Bank, and prompted Mr Hester to hand back his bonus for 2012.
The bank could face a fine, censure or both for the incident which reportedly followed a botched attempt to update software on its payment processing system.
It has already taken a £175m hit to cover costs and compensation for the incident.
However, the lender also underlined its progress on shrinking the bank and returning it to health.
Last year it quit the UK government's £282bn Asset Protection Scheme without making a claim on it and also floated its insurance arm, Direct Line Group.
RBS is also trying to find a buyer for more than 300 branches after a deal to sell them to Santander fell through last year.
Mr Hester has rejected suggestions the lender should be split into a "good" and "bad" bank, to separate out toxic assets.
In a recent newspaper interview, he said it would be costly and time-consuming.
RBS is majority-owned by the taxpayer after a £45bn bailout at the peak of the financial crisis in 2008.
Friends of the Earth Scotland demonstrators held a protest outside the bank's AGM in Edinburgh.
They claimed RBS was "funding the wholesale destruction" of the Appalachian mountains in the USA, and elsewhere, by mining coal deposits.