The human traffic jam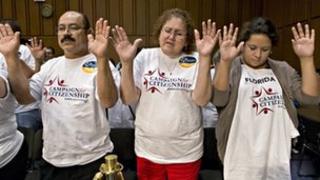 Not long off a red-eye flight from New York, I've returned to a country where the public attitude to immigration has politicians worried.
And I've left a country where it's trying to solve its own tricky immigration challenge.
This month's UKIP success in English council elections was followed by a legislative programme for Westminster that features tougher rules on getting to work in Britain.
In the US, immigration is one area where Congress might actually be able to agree on some action, unlike the legislative deadlock that's afflicting most issues in Washington.
This is to address two problems. About 11 million people are in the US illegally, many of them coming across the border from Mexico.
That flow - one of the biggest influxes of people in the nation's history - has now reduced to nothing much, while the American jobs market is so weak. But it leaves a problem of an unregulated, unprotected workforce, without which some parts of the American economy - notably agriculture - would be struggling.
The Obama administration wants to give these people "pathways to citizenship", whereas his Republican critics say that would be an amnesty, and would only encourage more to take the risk on smuggling themselves into the country.
Some on the right see immigration as purely a drain on resources. The Heritage Foundation this month published a report saying that currently illegal immigrants could cost $6.3 trillion over 50 years (more than £4000 billion) in welfare and healthcare costs.
Perhaps the most notable aspect of the report is how widely condemned it was, for failing to take any account of the dynamic impact these and other immigrants can have on economic growth - paying taxes rather than being a cost to society.
High-tech work
The other factor is that America needs high-level skills if it's to keep its innovative edge. A technology firm trying to hire currently has to go through a long and expensive process to prove it couldn't find anyone in the American labour market before it can hire a foreigner.
And once they're in, it's hard for them to put down roots. If you lose your job, for whatever reason, you have 60 days to find another one, or else your work visa is cancelled.
For a nation mostly made up of immigrants, opinion is divided, but at least there are more supporters of immigration than you might find in Britain.
More than half of Americans, in a recent poll for the respected Pew Charitable Trust, found more than half believe immigrants strengthen the country, though 43% say they undermine American customs and traditions. The positives have been growing recently.
One reason why the US debate on immigration might actually lead somewhere this time is that it's creating some unusual alliances.
Labour unions fear a downward drive in wages, while some of the more right-wing Republicans argue only for tougher border security.
On the other side, the issue has brought big tech out in force. It's not that used to lobbying Washington, but the likes of Facebook's Mark Zuckerberg are keen to open up the gates to more of the algorithmic whizz-kids he wants to recruit.
Ethnic minority vote
Perhaps the most significant change of direction in the American debate comes from the result of last November's presidential election.
The Republicans, who have sought to block previous attempts at immigration law reform, learned that they can make little electoral headway if they continue to appeal only for white votes.
Some of the more enlightened ones are addressing the challenge of reaching out to the growing share of the electorate that's made up of minorities.
And that's where there might be a lesson for British politicians.
Abroad, there's international competition to attract the globally mobile people with skills that could take them to many different destinations.
And closer to home, demography points in the direction of ethnic minorities becoming an increasingly important part of electoral calculations.