Irn Bru firm AG Barr sales fizz in flat market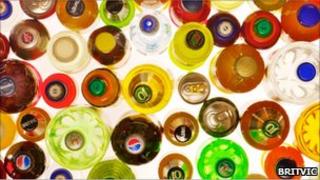 The fizzy drink maker AG Barr has reported an increase in sales in the first four months of the year, outperforming the market.
Total revenue increased by 2.4% compared with a year ago.
The company said this compared "favourably" with the overall drinks market which was flat, partly due to the bad weather.
The Competition Commission is due to report soon on a planned merger between AG Barr and Britvic.
AG Barr makes Irn Bru, Tizer and Rubicon, while Britvic is known for making Tango, Robinsons, J2O and sells PepsiCo brands under an exclusive licence.
The two announced a merger last year but the deal was referred to the competition authorities.
In a statement AG Barr said it continued to "cooperate fully" with the Competition Commission.
The provisional findings of its investigation is expected in early June.
The company said: "The strategic attraction of the merger, as previously described to all shareholders, has not changed and the board will accordingly reconsider the transaction once the Competition Commission findings are available."