Dating firm Cupid in talks over dating websites sale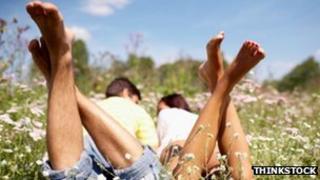 Online dating company Cupid plc has confirmed it is in talks about the sale of its "casual" dating wing.
The Edinburgh-based firm said it was "in discussions with third parties" which could result in an offer being tabled.
The news came in a stock market announcement, following recent movements in the company's share price.
The casual dating part of Cupid's business includes the websites benaughty.com and flirt.com.
Cupid's traditional and niche divisions are not included in the talks.
Shares in Cupid rose sharply after the announcement but fell back into negative territory later in the day.
At 16:10, its shares were about 1.6% down on Tuesday's closing price.
In a trading update, Cupid also said it expected half-year revenues to be 13% up on the same period last year, thanks to a strong performance by websites Uniform Dating and Assistance Genie Logiciel (AGL).
However, it added sales would be 1% lower than last year on a like-for-like basis.
Pre-tax profit for the first half is expected to be about £2.5m, down from £5.9m in 2012.
Company changes
The company said: "As stated in our March release we continue to focus on devising and implementing a number of initiatives aimed at improving the customer experience and the quality of traffic.
"Whilst the changes will have a short-term impact on revenues and profitability, the company believes that they will increase lifetime value of customers and reduce churn rates."
It added: "It is too early to say what the full-year effect of the various changes we are making will be."
Meanwhile, Cupid is awaiting the results of an independent audit into the way it operates.
It announced the move earlier this year after a BBC investigation into its operations.
Cupid denied at the time it was creating user profiles on its websites to entice new customers to sign up or that the company sent communications in order to tempt free members to pay subscriptions.
The results of the audit are expected by the end of June.