Scottish engineering firms 'more optimistic'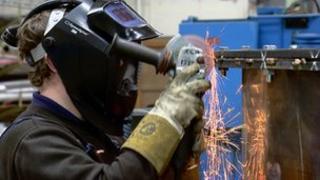 Scottish engineering firms are more optimistic about future growth following a recent rise in output, according to an industry survey.
The latest Scottish Engineering quarterly review suggested output rose across all sectors, except electronics, in the last three months.
Staff recruitment also improved over the period.
More firms said they were optimistic of achieving growth over the next three months.
The latest survey suggested total orders had "moved back into a positive mode" in the sector, while output was also back in positive territory for all sizes of company.
However, it found only small companies reported "a positive outcome" in terms of orders during the last three months.
Machine shops, metal manufacturers and transport businesses were more positive about orders than other sectors.
Levels of optimism were higher in small and medium-sized companies than large firms, according to the survey.
The report suggested both training and capital investment plans picked up from a slight dip in the previous quarter.
Staff recruitment also remained "positive" and was growing.
Scottish Engineering's review said: "With output volumes improving across all sectors except electronics, and order intake holding, it would appear that the improvement in the levels of staffing is also indicative of positive predictions for the next quarter.
"Within the sectors, the second quarter of 2013 has not been particularly auspicious for the electronics sector."
Women in engineering
The latest quarterly review included a call from a UK government minister for Scotland to be at the forefront of efforts to promote more women into engineering.
Employment Relations Minister Jo Swinson said it was "lamentable" that only 9% of the UK's professional engineering workforce were women.
She called for action to help bring about an increase both in the number of women in the industry and their profile in the sector.
Ms Swinson, the Liberal Democrat MP for East Dunbartonshire, argued that the government needed to tackle the "high attrition rate of highly trained women from employment" in the sector.
She added: "In Scotland a shocking 73% of women graduates are lost from science and engineering occupations compared with just 48% of men.
"The stereotype of men wearing hard hats on building sites needs to be challenged and we need to show young women engineering offers a huge range of careers in exciting, rewarding sectors."