Unison to hold strike ballot over Cosla pay offer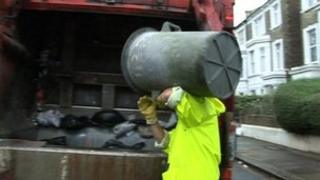 Local government workers across Scotland are to be balloted on possible strike action, after public services union Unison rejected a 1% pay offer by councils.
The union said it would ballot 75,000 members working for Scotland's 32 local authorities.
Unison described the pay offer as "miserly", following a two-year pay freeze.
Local government umbrella body Cosla called its final offer "very fair".
The ballot will run from 3 July to 13 August.
Unison said if members voted to strike, there could be at least three one-day strikes over a seven-week period in the autumn.
The union's local government membership includes cooks, cleaners, classroom assistants, housing staff, library workers, cleansing and environmental protection staff and trading standards workers.
Stephanie Herd, chairwoman of Unison's local government committee, said: "Council staff work hard delivering quality public services.
"They are overstretched after more than 34,500 local government jobs have gone.
"They are underpaid, and they see the wealthiest people in this country getting ever richer."
She added: "Our members deserve fair pay and we believe they will vote yes for strike action to put pressure on the employers to improve the offer."
Cosla responded by saying that the local government settlement over three years meant that councils had less to spend this year than last, and less still next year.
Spokesman Billy Hendry said it was now time for the unions to "take a reality check" in the best interests of their members and to accept Cosla's final offer.
Mr Hendry said the £7.50 per hour Scottish local government living wage outstripped "anything being offered to local government employees in England and Wales".
He added: "Indeed by our calculations, to increase our pay offer by even 0.25% would result in over 700 job losses in councils across Scotland.
"As such, it is regrettable that at a time when councils are doing their very best to maintain job security for staff, the unions are recommending rejection of a very fair pay offer in the current economic climate."