'Slow but steady' sales in Scottish shops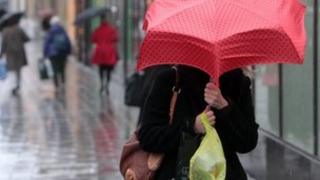 Retail sales in Scotland grew at a "steady" pace last month but lagged behind the UK as a whole, according to a new report.
The Scottish Retail Consortium (SRC) said total sales grew by 0.8% in May.
The like-for-like measure, which strips out the effect of new store openings, fell by 0.5%. Both measures are better than they were were a year ago.
However spending in Scotland's shops was lower than in the UK as a whole which had 3.4% growth in May.
The consortium says this is partly explained by the bad weather in May which was the coldest since 1996.
The monthly survey showed there was strong demand for electrical items like tablets, large white goods and small household appliances as well as for winter medicines.
Food continued to outperform non-food sales with a 1.5% increase compared with a 0.2% rise.
SRC Director Fiona Moriarty said: "This is a fairly solid showing which chimes with rising levels of consumer confidence in Scotland.
"Customers remain price-conscious, but the signs are that they entered May a little more willing to spend, especially on value ranges."
David McCorquodale, head of retail, KPMG, said: "May's sales figures reflect the relationship between retailers and the Scottish consumer."
He added: "Yes spending is up, but only just, and it remains an uphill struggle for retailers who are fighting over every pound that enters the tills.
"This battle for their share of consumer wallets will remain fierce and retailers must keep a watchful eye on their own margins as they try every form of promotional activity to secure sales."