Edrington targets global expansion with premium malts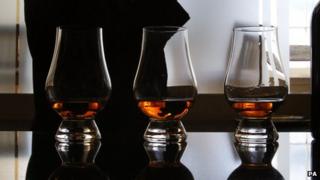 Scottish-based whisky and rum distiller Edrington is to open new sales offices covering the US, Middle East and south east Asia.
The owner of Famous Grouse, Cutty Sark and Highland Park is replacing existing agreements with other companies.
Its investment reflects expectations of growing exports.
Sales, marketing and distribution divisions are to be opened up in markets that currently account for 26% of Edrington's total sales.
The move counters reductions in European sales, mainly in Greece, Spain and Portugal.
Premium malts
The European market represented 60% of Edrington sales, but that has fallen to 40%, as other export markets have grown.
The US is seen as the best prospect for near-term growth, with industry analysis showing the market for drinking spirits rising by one million new consumers each year.
The strongest prospects there are premium single malts, including Macallan, and the firm's premium rum Brugal.
The firm is to expand its current office in New York, and open up in Chicago, Los Angeles, Dallas and Miami, replacing its current distributors.
Its new Dubai operation is aimed at the growing market in the Middle East, North Africa and the large duty free trade at the emirate's airport.
Singapore is not a base for targeting China, where Edrington already has a distribution arm, but instead at Indonesia, Malaysia and Vietnam, which are seen as having strong, longer-term growth potential.
Last year, Edrington opened up a distribution arm in Johannesburg, in a bid to access fast-growing African markets ahead of its competitors.
Ian Curle, chief executive of Edrington, said the investment is a "step change" in the business.
"Worldwide demand for premium and super-premium spirits continues to grow and by expanding our distribution capabilities, we are seizing the opportunity to increase investment in our brands and reach even more consumers who are showing a growing appreciation of premium spirits," he said.
Edrington Group is headquartered at its bottling plant in Glasgow, with its sales operation in Perth. It is mainly owned by the Robertson Trust, which last year distributed more than £15m of profits to Scottish charities, as well as by employee shareholders. Early in July, it is to issue its results for the year to March.