The Grouse goes hunting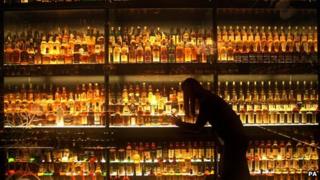 As Jason Rose has been finding out, Scotch and soda remains a staple of the 19th hole for America's golf and country club set.
But it's only one part of whisky's appeal in the world's biggest market. If you thought it was a mature market, both in its sales prospects and in the average age of the whisky drinker, think again.
That's the message from Ian Curle, chief executive of the Edrington Group, whose market research points to growth of one million additional spirit drinkers each year in America. Apart from a growing population, tastes are shifting from other drinks.
The US is as juicy an export prospect as any emerging market, says the man behind Famous Grouse, Cutty Sark, Macallan, Highland Park and its premium rum, Brugal.
Price points
Part of the American growth story is that word 'premium' - not only in single malts but in pushing quality blends of whisky up the price point ladder.
And while Macallan and Brugal are doing well with young professionals in New York, there's an impact on the west coast of Chinese communities buying into the whisky boom that's been going on in their homeland.
That kind of dynamic is fuelling growth and Edrington's enthusiasm for spreading its distribution channels.
Last year, it set up in Johannesburg to tackle the emerging markets of Africa, aiming to get first mover's advantage. Its bigger rival, Diageo, is also pushing into Africa with Johnnie Walker, but it's being led by Guinness and Harp lager. Nigeria is now among its biggest beer markets.
Edrington has decided to move on from its distribution partnerships in several other export markets, starting with the US. America offers the short-term gains, while Dubai's duty free offers strong prospects for medium-term growth.
Singapore, which has seen big increases in whisky shipments, is the other new distribution operation being set up by Edrington.
Much of that Scotch is on its way to China. But the Glasgow-based distiller is already in China, and well established in Japan, Taiwan and South Korea.
And Ian Curle notes that the Chinese market may be affected by the new administration in Beijing seeking to discourage the country's highly generous business gifting and entertaining culture.
He sees Singapore as the doorway instead to the next markets ripe for targeting; Vietnam, Indonesia and Malaysia, where big populations are allied to reasonably liberal alcohol markets.
Weel done, Cutty Sark
Scotch exports have registered very strong growth into Latin America, notably Brazil, Venezuela and Colombia. But that's more like Diageo territory, both for historic reasons of its Old Parr and other brands being big there for many decades, and because Paul Walsh has steered the world's biggest spirits distiller in that direction, making it hard for others to make an impact.
Behind all this is a shift of focus away from Europe. Edrington has seen a rapid decline of sales in austerity-hit Greece and Spain, and slightly less so in Portugal. Northern Europe is merely holding up, with some strengths in the Netherlands.
In Scotland, Famous Grouse remains the market leader, and Edrington says it has now overtaken Bell's as number one in Britain.
You might not know it. Beyond sponsoring the Cutty Sark seaplane that occasionally flies past my desk to its landing position at Pacific Quay in Glasgow, the company tends not to push its brands so much in its home country.
With prospects much stronger elsewhere, that's where the marketing and advertising spend tends to go.