Dana Petroleum looks to boost oil production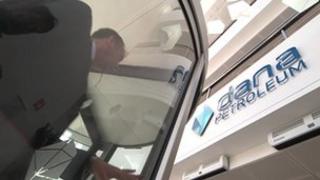 Oil firm Dana Petroleum has said it aims to "significantly boost" production over the next five years, after reporting strong annual results.
The Aberdeen-based company hopes production will be lifted by its £1bn Western Isles Development Project in UK Northern North Sea.
Daily production from the fields - which lie about 100 miles east of Shetland - is due to start in 2015.
Last year, Dana saw revenues increase by 0.4% to just over £1bn.
Net assets increased by 1.3% to £1.33bn.
The Western Isles project is a joint venture between Dana, with an equity share of 77%, and Japanese upstream exploration and production company Cieco, which holds the remaining 23%.
In its annual report, Dana said the project was at the heart of its growth strategy.
The nine-well development is expected to add more than 30,000 barrels to Dana's daily production when it comes on-stream.
'Solid progress'
Last year Dana, which is controlled by the Korea National Oil Corporation (KNOC), saw a slight fall in overall oil production to just under 57,300 barrels per day.
The company said the drop reflected problems encountered in its non-operated portfolio, including the loss of a full year's production from the Banff, Kyle and Enoch fields due to on-going shutdowns and extended operational shutdowns in the Greater Guillemot Area.
In total, 22 production-related wells were drilled during the year with success recorded at several sites in Egypt and at Captain in the UK.
A total of 19 exploration and appraisal wells were also completed.
Group chief executive Marcus Richards said: "2012 was another year of solid progress for Dana with strong revenues and production underpinned by a diverse asset base.
"We were granted sanction for the Western Isles Development Project in the UK North Sea at the end of the year.
"This project is extremely important for Dana as we aim to significantly boost our production over the next five years."