New £40m Speirs Locks Student Campus given green light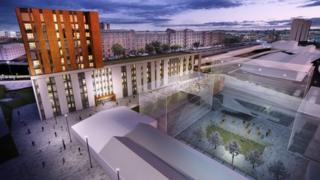 The first phase of a new £40m student campus on the banks of the Forth and Clyde Canal is set to go ahead after being given the green light by Glasgow City Council.
Developers expect to start work on the 100,000 sq ft Speirs Locks Student Campus in January.
It will initially provide 235 private rooms for students.
The campus is the first new-build project in Glasgow City Council's Speirs Locks development plan.
The first residents are expected on site by September 2015.
Developers Speirs Wharf Developments hope that a second phase, involving the construction of 336 rooms, will be completed and occupied in September 2016.
The plans for the campus were developed by architects Stallan-Brand.
'Significant milestone'
Speirs Wharf Developments will retain ownership and management responsibility for the operation of the campus once the project is completed.
Managing director Alan Strachan said: "This is a significant milestone for us, and we can't wait to get started - our intention is to get the project moving as quickly as possible.
"The development will help to meet the future demands of a student population that makes a significant contribution to our thriving, culturally diverse and exciting city.
"Our design aims to enhance both the student experience and local environment, bringing new life, energy and interest to what is fast emerging as a cultural quarter for Glasgow."
Speirs Locks is being promoted as Glasgow's Art Quarter, with the Scottish Opera, National Theatre of Scotland and the Royal Conservatoire of Scotland all located in the area.