Easyjet guarantees Inverness routes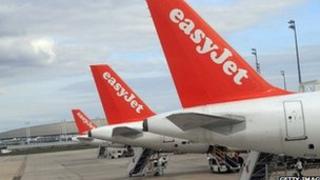 Easyjet is to introduce new flights from Inverness to London, replacing those lost by Flybe pulling out of its Gatwick route.
Flybe announced earlier this year that it was selling its Gatwick slots to Easyjet in a £20m deal threatening air links with the Highlands.
Easyjet which already operates a London-Inverness service said it was increasing its capacity between Inverness and Gatwick by almost 30%.
The new flights will start next year.
Crucially the new flights will include an early morning departure to Gatwick and an evening arrival from the London airport.
The new services are part of a new five year deal between the airline and Inverness Airport.
Hugh Aitken, Easyjet's Head of Scotland, said: "This deal demonstrates Easyjet's commitment to Inverness and the Highlands.
"The new early flight will allow business travellers to reach London in time for meetings while the evening departure from London enables them to travel home on the same day. The additional seats will also help boost tourism to the Highlands."
Politicians and business leaders had expressed concern about the loss of Flybe's three-times-a-day service from Inverness.
'Vote of confidence'
Inglis Lyon, managing director of Hial, which operates Inverness Airport, said: "This announcement is a major vote of confidence in the Highland economy from one of Europe's largest airlines and we look forward to working with Easyjet, local businesses and the tourism sector to ensure the success of these new services."
Minister for Transport Keith Brown said the announcement was a "fitting outcome to the hard work we have undertaken together with our partners on this issue".
The Scottish Chambers of Commerce also welcomed the move.
Chief executive Liz Cameron said: "It is particularly important that the new schedule will incorporate the key early morning and evening slots that are vital for travel to London and back on the same day, as well as the provision of slots to serve the Highlands' vital tourism market.
"This commitment recognises the commercial attractiveness of Inverness Airport to the aviation industry, which is testament to the strong, confident and growing businesses that are operating in the Highlands and the opportunity now exists to ensure a long term sustainable link between the Highlands and London."