Crown Estate boosts capital investment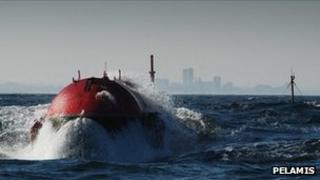 The Crown Estate, which controls half of Scotland's coast and almost all of its seabed, increased its capital investment by 9% to £9.6m last year.
The body said £5.9m was invested in energy and infrastructure, including offshore wind, wave and tidal power.
Its annual report stated much of the cash was provided to projects at a critical stage in development.
It also said it helped them to secure further funds by demonstrating their value and commercial potential.
In the year to the end of March, the Crown Estate saw two Round 3 offshore wind zones off the Scottish coast progress to planning stage and the first application submitted for a marine energy project in the Pentland Firth and Orkney Waters programme.
The body reported it was working to drive down costs and encourage investment in offshore wind, including announcing a leasing round for test and demonstration projects, such as floating turbines, and a cost reduction study.
The year also saw it sign the UK's first lease agreements for carbon dioxide (CO2) storage projects, including one that involves taking CO2 from the gas-fired power plant near Peterhead and injecting it in the depleted Goldeneye North Sea gas field.
It also signalled its interest in investing up to £20m in wave and tidal first arrays to help the industry grow.
The Crown Estate's Scotland Commissioner, Gareth Baird, said: "Our work in Scotland delivers in key sectors such as offshore renewables, tourism, aquaculture and agriculture, supporting job creation, particularly in rural and coastal areas.
"Our UK-wide team and remit ensures our expertise and resources can be used to benefit Scotland, helping create and maximise new opportunities as they arise.
"In offshore renewables, we have worked to build and sustain the confidence of investors and developers, playing our part in meeting Scottish targets to reduce carbon emissions and generate green energy."
Last year, the Crown Estate's revenues in Scotland increased by 11% to £13.7m, representing 4% of the body's UK total.
It is currently developing a tourism initiative at Glenlivet Estate in Moray, which will see investment of £375,000 over two years in a £500,000 project to develop mountain bike trails and a visitors' centre.