Energy firms unveil plans to benefit customers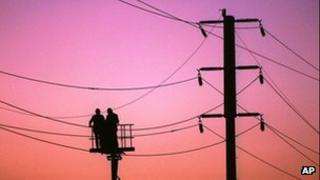 ScottishPower and SSE have unveiled plans which say they will improve services, provide lower prices and create more jobs.
ScottishPower has unveiled a £5.2bn investment, which could see 2,500 new jobs created.
Scottish and Southern Energy Power Distribution (SSE) plan to reduce distribution costs by 10% in 2015.
The proposals aim to improve reliability and costs to energy customers.
ScottishPower has made plans that will see cables and substations that keep the lights on for more than 3.5m customers in Central Scotland, Merseyside and North & Mid Wales being renewed and maintained.
Its proposal to Ofgem outlines a major role in supporting the UK's transition to a low carbon economy.
A major focus of the investment includes the reinforcement of power lines and substations in rural areas, to combat the effects of severe weather.
New jobs
To carry out the required work the company said it would invest £90m on recruitment and training to make sure the work is completed.
Together with other projects, the total number of jobs created by the company in the next decade could rise to about 4,000.
To make sure targets are met, work has begun on recruitment from schools, colleges and universities.
Frank Mitchell, CEO of ScottishPower Energy Networks, said "We have a unique opportunity to completely modernise our infrastructure and create a blueprint to support growth for generations to come.
"This £5.2bn investment will create thousands of highly-skilled jobs, as we will need a new generation of engineers and technicians to deliver the upgrades."
As part of the restructuring, plans are in place to provide better compensation payments to customers who experience interruptions and are without power.
Customer savings
SSE has submitted plans to do "more for less" for customers which could result in the final amount consumers are charged being reduced as early as 2015.
The company aims to deliver a 10% cut to the distribution network costs for customers in central southern England and the north of Scotland.
Director of distribution Stuart Hogarth said: "Customers are at the heart of our business and I believe the commitments we have outlined today reflect their priorities. We know that the targets we have set ourselves are challenging.
"This is because we want to continue improving the network and fulfilling our core aim of maintaining a safe and reliable supply of electricity to homes and businesses in our area."
He added: "We continue to look to the future and plan for what might happen to energy use between now and 2023."