AG Barr considers renewed bid for Britvic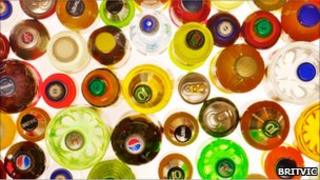 AG Barr is considering a renewed bid for Britvic, following the lapse of the two companies' agreement on a merger.
They received Competition Commission approval to combine their market shares, but Britvic does not now want to go ahead.
The merger plans were first announced in September 2012, in a deal the two companies said had "compelling industrial logic".
Britvic has now said its prospects as a stand-alone company were "bright."
Meanwhile AG Barr said little had changed to alter its previous conviction that a merger represented a "unique" opportunity for shareholders.
In a statement, the Cumbernauld-based maker of Irn Bru said it will "actively reconsider a potential merger with Britvic".
Following the Competition Commission ruling, market analysts argued there was still a logic to the two companies being combined, giving them more market share and cost savings.
'Positive step'
However, Britvic has come under new management since the deal lapsed in February. Its share price has risen, and it is in a stronger financial position as it applies cost savings on its own.
The Takeover Panel has now set a deadline of 30 July for AG Barr to make an offer for Britvic.
AG Barr has a strong presence in Scotland and is best known as the maker of Irn Bru. Its other brands include Tizer, KA and Strathmore Water.
Britvic is the licensed producer of PepsiCo brands in the UK, and also makes Tango, 7UP, and Lipton Ice Tea.
Britvic's chairman Gerald Corbett said: "We would obviously consider any proposal tabled in the interests of shareholders.
"However, Britvic is in a very different position to last summer when the merger was agreed. We have a new chief executive in Simon Litherland, who has done a fantastic job in implementing his new plan for Britvic."
He added: "The merger benefits are materially less than they were and our share price is almost twice the level it was. Britvic's prospects as a stand-alone company are bright."
AG Barr described the Competition Commission's final ruling as a "significant positive step and, in light of this, will actively reconsider a potential merger with Britvic".