AG Barr abandons bid for Britvic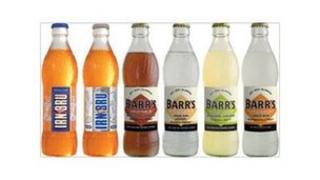 The maker of Irn Bru has announced it will not make a bid for rival soft drinks firm Britvic.
AG Barr struck a deal on a merger with Britvic last year, but it was delayed by a Competition Commission inquiry.
By the time clearance was finalised earlier this week, the deal had lapsed and Britvic had backed away from renewing it.
AG Barr made a renewed merger proposal on improved terms, but that was rejected and no new bid is planned.
Cumbernauld-based AG Barr insisted it remains in a strong position without the alliance.
AG Barr Chairman Ronnie Hanna said: "While we are disappointed that the opportunity to create significant value for both sets of shareholders has been rejected, the Board of AG Barr has every reason to be confident of its position as a stand-alone company.
"AG Barr continues to outperform the UK soft drinks market and will follow its successful long term strategy supported by a strong balance sheet, unique brands and a well invested asset base."
A statement from the board of Britvic said the renewed all share offer valued the merged company as 65% Britvic and 35% AG Barr.
It said this "represented only a small improvement on the previous terms as announced on 14 November 2012 and was at a considerable discount to the current market capitalisation ratios of the two companies".
Britvic chairman Gerald Corbett said: "Under Simon Litherland's leadership, our performance has significantly improved and this, combined with the £30m cost reduction plan and accelerating international expansion, means that our future is bright.
"The execution and delivery of this is now the absolute priority of the Britvic team. We wish Barr and its management team well. They are good people with a fine business."