Stoking up the Big Smoke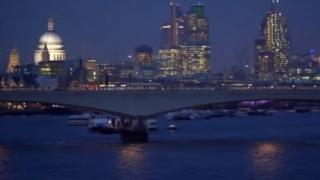 We started the past week hearing concerns that people on benefits are being priced out of London.
The cap on total family welfare payments makes it impossible for larger families to remain in the capital, due to its high property costs.
Even for those holding down good jobs in the public service, it's long been a struggle to afford the cost of living in the capital.
We continued the past week hearing that there are nearly 2,500 bankers in London earning more than a million euros per year, more than the rest of Europe's million-earning bankers put together.
That inequality also helps drive the property market in London, having returned to rising prices. That's helped also by the influx of foreign capital to a London property investment market that's seen as something of a safe haven.
Transport hub
The week continued with the question of what to do about the lack of airport capacity in the south-east of England. The issue is how to retain London as a global aviation hub, and the impact that has on those who are neighbours to airports. The issue is rather less how that affects other parts of Britain's economy that need good links to Heathrow.
One answer could be high-speed rail into and out of the airports as well as London. And, sure enough, there was yet more controversy about the cost of building a high-speed rail line from London to Birmingham, on to Leeds and Manchester, and perhaps, eventually, into Scotland. Tom Harris, the Labour MP from Glasgow and a former rail minister, challenged his party leadership to think again.
The big question on that remains: would such a line spread economic growth along the route, or simply make London's commuter belt very much bigger?
And in case that wasn't enough about London for one week, we heard about the economic impact from the big spend on the Olympics last year, and on the heavy concentration of the BBC's spend in the south-east. Of spending on network programmes, 54% was spent in London.
Independence for London?
You get the point? From only one week's headlines, London is becoming the key issue in Britain's economy.
I've looked before at the question of whether the clout of this global city is good or bad for the rest of Britain.
In March, Stephanie Flanders, the BBC's economics editor, made a short film asking whether London should continue being part of the UK, and whether the success of the London economy is holding back other big English cities.
Contributors to that report wonder how the British economy could change if Parliament was moved to, for instance, Birmingham.
And in interviews I've done for Analysis on BBC Radio 4, examining the evolution of the case for Scottish independence, I heard that the other side of the coin is the case for London's independence.
It's at Westminster that there are successive governments eager for reform and change, while there's resistance from elsewhere.
Pulling away
And one of the contributors to the radio programme, Michael Keating, professor of politics at Aberdeen University, suggests that can turn the case for Scottish independence on its head.
His argument: "Scotland won't become independent because it's too risky, but England might, because England has been diverging from the rest of the United Kingdom in public policy.
"It's in England where you're getting these changes in public services whether you like them or not. They're really radical changes in health and education and other public services.
Professor Keating told me: "In Scotland, like Wales and Northern Ireland, it's tended to stick more to the more traditional welfare model of public provision, less competition, less privatisation and contracting out, less marketisation. There's a feeling in part of England that Scotland could just be an obstacle in proceeding in that direction".
And yet, it's not all of England. The polling evidence suggests the north of England has a lot in common with the views of Scotland.
So Professor Keating qualifies his views somewhat: "If there is a part of the United Kingdom that's pulling away from the rest, whether it comes to economics, politics, social attitudes, it's the south-east of England. It's almost becoming a state of its own - highly integrated into global networks, but curiously parochial in its politics".
You can hear the Analysis programme again here.