Lord McConnell to chair SSE community funding panel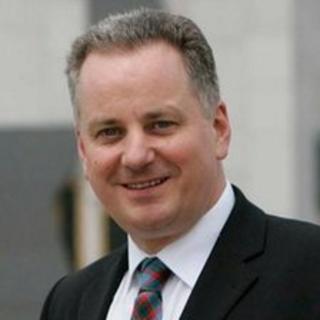 Former first minister Lord McConnell is to chair an expert panel which energy giant SSE claims could allocate £90m to local communities over the next 25 years.
The panel was set up by SSE to decide who should receive payments in areas where it is constructing a wind farm.
The new fund will be available to groups such as non-profit-making organisations and charities.
Projects it will support include those which promote skills development.
The first round of funding will be for groups in the Highlands, with £325,000 available when applications open in September.
This will be followed by funding for Perthshire and Dumfries and Galloway next spring.
The power company has a policy of providing areas near renewable energy developments, such as wind farms, with £5,000 of funding per megawatt of electricity each year.
Perth-based SSE has already invested about £13m in community projects since 2002.
The company said that if its development plans were successful, it could invest more than £240m in the next 25 years - including about £90m from the new fund.
Panel members
The expert panel includes Jan Bebbington, a professor of accounting and sustainable development from St Andrews University, Damien Yeates, the chief executive of training body Skills Development Scotland, and Community Energy Scotland chief executive Nicholas Gubbins.
SSE corporate affairs managing director Alan Young will also be on the panel.
Lord McConnell said he was "delighted to have been asked to chair this new and exciting panel and to work alongside experts who bring with them a wealth of experience across community development, environmental sustainability and skills development".
He added: "This fund aims to support large - potentially transformational - projects in local areas, supporting skills, jobs, community energy and environmental enhancement.
"This is a significant amount of money made available by SSE and I know they want us to make sure these funds are allocated effectively, making a real difference."
SSE chief executive Alistair Phillips-Davies said: "Our heritage in Scotland means it is only right that we support the communities in which we operate to develop and flourish.
"The fund we're launching is in addition to the sizeable sums we set aside each year for communities within the immediate area around our wind farms, for existing and new sites."