Signs of pick up in Scottish house sales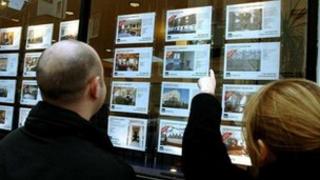 The volume of houses sold in Scotland between April and June increased by 8.1% compared with a year ago, according to official figures.
However prices fell by an average of 0.3% during the same time.
The most expensive place to buy is Aberdeenshire with an average price of £215,000 - East Ayrshire is one of the cheapest areas.
The Registers of Scotland, which produced the data, described the figures as ""encouraging".
Register's director of commercial services, Kenny Crawford, said: "It's extremely positive to see an upturn in the market with sales volumes increasing by 8.1% over the past three months.
"There have been some areas that have experienced a decrease, but with the total value of sales increasing by 7.7% compared to the previous year, it's an encouraging indicator of improvements in the residential property market."
Prices in Edinburgh which held the top spot in previous surveys fell by 3.5%.
Among the cheapest place to buy is East Ayrshire with an average price of just over £100,000 but Stirling recorded one of the biggest falls in prices over the year of nearly 10%.
The average price of a property in Scotland now stands at £153,102 with detached houses selling for an average of £225,193 and flats at £117,500.