Halifax to open Scottish branches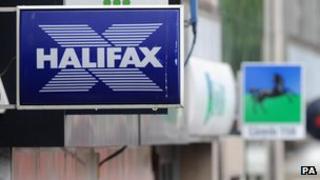 The Halifax brand is set to return to Scotland's high streets after owner Lloyds Banking Group announced plans to open branches in three cities.
The first branch will open in Aberdeen by the end of this year, followed by others in Glasgow and Edinburgh.
Halifax said the move would give customers in Scotland greater access to its products.
Scotland-based Halifax customers already hold 1.8 million Halifax products - largely savings accounts.
The new branches will mark a return of the Halifax brand to Scotland.
Halifax first opened a branch north of the border in 1928.
In 2001 Halifax and Bank of Scotland merged to form HBOS, leading to dual-fronted branches.
When HBOS became part of Lloyds Banking Group in 2009, Bank of Scotland became a distinct brand and the name of Halifax disappeared from the high street in Scotland.
'Extra choice'
Lloyds Banking Group said staff at the new branches would offer advice on ways that customers could bank with Halifax, such as online and mobile banking.
The new sites will also provide a full branch service to allow customers to service their accounts in person.
Halifax Community Bank group director David Nicholson said: "The Halifax is all about giving customers extra - that means extra value and extra choice.
"We know that these two things are very important to customers everywhere, and particularly in Scotland, where we continue to perform strongly."
Lloyds Banking Group continues to have a strong presence in Scotland, with 294 Bank of Scotland branches and 185 Lloyds TSB Scotland branches.