Fashion group M&Co hails improved trading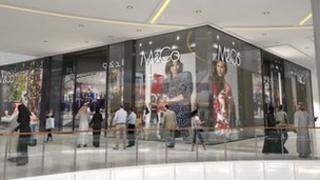 Fashion retailer M&Co has reported a fall in turnover but said it had returned to profitable trading.
The company's accounts for the year to 22 February show sales fell 2.5% due to poor weather and a reduction in the number of stores.
M&Co recorded a pre-tax loss of £2.5m for the period, although it said after excluding one-off items it made an operating profit of £0.4m.
It closed 12 non-profitable stores during the year and opened seven.
The company, which has its headquarters near Glasgow airport, now has five international franchise stores in operation.
Net debt at the firm was reduced by £9.4m to £22.8m.
M&Co's chairman Iain McGeoch welcomed the latest figures after what he called a "disappointing" year in 2011-12 when the company made an operating loss of £5m.
He added: "Autumn/winter season was particularly encouraging with our restructuring of the buying operation in late 2011 leading to much better product direction and renewed focus on quality.
"Trading was greatly improved from July 2012 onwards as the resultant new product ranges hit stores."
He said the improved performance had continued into the new financial year.