Scots home building 'taking-off' but concerns over independence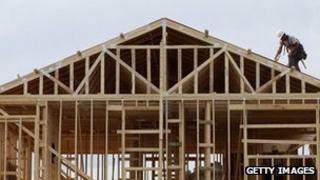 The home building market in Scotland is picking up, but optimism is tempered by concerns over the potential impact of independence, a new study has found.
Property consultancy firm, Jones Lang LaSalle, spoke to twelve private housebuilders.
Three expected to be building more than 1,000 units a year by 2016, with four planning more than 500 units annually.
But they was less confidence about price rises, and there was a "fear of the unknown" over independence.
The report, based on interviews with developers responsible for more than 80% of the country's house building, said that across the whole of Scotland about 13,500 new homes were started in 2012, a marginal increase from the 13,300 units in 2011, and the first annual rise since 2006.
The study forecast that housing starts could reach 14,500 units in 2013 and move towards 17,000 a year by 2017.
Suburban Edinburgh and Glasgow were the preferred locations for housebuilders with the central belt and Aberdeen not far behind.
'Preparing for take-off'
The Jones Lang LaSalle report said the signs were positive for an escalation in development.
However, housebuilders were less confident about prices, which they expect to rise by just 1-2% across Scotland over the next three years.
The greatest optimism about prices was in Edinburgh, where a rise of almost 3% was predicted by 2016, but builders were less positive about Glasgow where they expected minimal improvement.
Most of the housebuilders said they currently believed that Scottish independence would result in less housing development in Scotland.
Only one of the twelve interviewed thought that independence would deliver more housing.
Jason Hogg, director of Jones Lang LaSalle's residential team in Scotland, said: "Following six years in the doldrums, the Scottish new build residential market is now preparing for take-off.
"Housebuilders are enthusiastic about prospects over the next few years despite limited anticipation of price growth. Many intend to step up development activity as economic fundamentals and housing market conditions improve.
"The concerns raised about independence perhaps highlight a fear of the unknown rather than an outright objection to the principle, at a time when we are finally seeing a return to growth."