Scottish Enterprise reports turnover growth for firms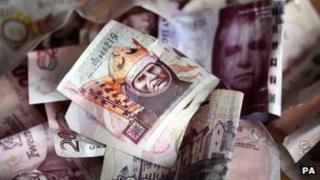 Firms whose accounts were managed by Scottish Enterprise (SE) generated combined turnover growth of £1bn in the last year, according to the agency.
SE said the firms increased their combined turnover by 8% to £13.7bn between April 2012 and March this year.
It estimated the growth had led to 2,622 new jobs - an increase of 1.3% during the year.
Almost 80% of SE account-managed companies submitted their turnover figures for last year.
They indicated an average turnover growth of £1.7m, with 70% of companies actively growing.
Companies in the oil and gas, food and drink and technology sectors contributed the highest levels of turnover growth.
SE chief executive Lena Wilson said: "We've listened to our customers and responded to their needs by tailoring our account management support to where it can be most effective.
"This flexible approach allows us to work with even more ambitious growing companies who are investing and creating jobs."
Investigation urged
The announcement came as the Scottish Conservative Party pressed for an investigation into a Scottish Enterprise scheme which it claimed had cost the public purse more than £230m - but returned only £600,000.
The party has asked Audit Scotland to look into the Intermediary Technology Institutes (ITIs) programme, which was set up in 2002 to help new ideas emerging from Scotland's universities become a commercial success.
The Tories said the scheme, which was wound up in 2010, generated about 0.25% of the cash invested.
Scottish Tory enterprise spokesman Murdo Fraser said: "A full audit needs to be carried out into spending on the ITIs and I believe that the auditor general is best placed to conduct this.
"Where huge sums have been involved we need a detailed investigation."
'Approach working'
Responding to the call for an investigation, an SE spokeswoman said: "It's been widely publicised that we took the decision to integrate the ITI programmes into SE four years ago because the economic climate and changing market conditions meant they wouldn't deliver the impact we were looking for.
"SE's commercialisation focus is on the technology and talent that displays the greatest potential to create companies of scale with clear routes to market, strong management teams and with the ambition to grow substantially in Scotland."
She added: "Latest figures suggest this approach is working with commercialisation company performance having significantly increased in recent years and the return on our investment now expected to exceed £8 for every pound into new companies for the ten-year period up to 2017."
The issue of enterprise networks is to be debated in the Scottish Parliament on Wednesday.
Turkey mission
In a separate development, Ms Wilson is due to lead a group of 10 Scottish companies on a trade mission to Turkey this week, targeting the country's growing oil and gas sector.
The mission includes major engineering companies Weir Group and Clyde Bergemann, as well as firms specialising in areas such as maintenance and repair, consultancy services and recruitment.
The companies will hold meetings with leading Turkish and international oil and gas firms based in Istanbul, Ankara and Izmir.
Ms Wilson said: "Turkey is situated right in the middle of major European markets and some of the biggest oil and gas producing countries in the Middle East and Central Asia, meaning it is close to around 70% of the world's proven oil and gas reserves."