Squeezing the budget numbers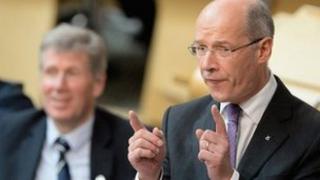 Budget day at Holyrood, and lots of numbers. The eighteenth of the ninth month, in twenty fourteen over-shadowed many others, as that's the date of the referendum.
In the allocation of funds, there wasn't much to shift around, once the continuing squeeze had been applied.
But here are a small selection of numbers worth some pause for consideration. One of them was from another document issued by the Scottish government earlier on budget day.
It showed that 578,600 people were in public sector jobs in the second quarter of this year. That's 6,000 fewer than the year before.
By contrast private sector employment grew 3.3% over the year to 1,941,700.
Public sector employment has dropped as a share of the total, to 23% of all jobs, down from 24.3% when the Scottish Parliament got going in 1999.
Basic earnings cap
And here's another couple of numbers from some other documents issued with the draft budget; the 84% of those public sector workers who work for devolved services, including health, local authorities, school teaching, police and prisons, face a 1% cap on basic pay for another two years.
Now, there was a divergence in John Swinney's budget from the Whitehall message. Whereas George Osborne proposed an end to automatic pay progression in the public sector, John Swinney is willing to retain it.
And he's offering up to £300 extra for those earning up to £21,000, to support the lower paid, and take some pay rises as high as 2%.
He's leaving it to pay negotiators to use a small amount of discretion on progression pay to iron out some of the tensions building up in the public sector payroll, as pay increases fail to keep pace with inflation.
Because, yes, the same day brought yet another statistic tacked onto the Labour Force Survey which showed an uptick in the number of Scots seeking work between May and July; the average pay rise over the year to this summer, at 1.1% across Britain, continued to be a long way behind the inflation rate. In July, that was running at 2.8%.
Despite being much more highly unionised than the private sector, there has been little industrial action taken against pay, as it's been frozen and now capped below inflation.
That speaks to the state of the labour market. Union negotiators are weakened while their members fear for their jobs, perceive a need for sacrifice or can't afford the loss of earnings if they strike. Low pay increases are a trade-off with the Scottish government's pledge of "no compulsory redundancies".
Contrast that with the workers of Alexander Dennis in Falkirk. They make buses, and very successfully so. The firm's owners, some of Scotland's best known business investors, are doing very nicely out of the bus-makers turnaround and exporting success. And last week, facing a pay offer of 3.5%, the plant's union members voted for strike action.
Cost of negotiating
This is because it's a weakening of the pay increases from the 4% awarded each year since 2011. And it's a reminder of the way inflation can fuel itself where workers have greater negotiating power, and where they try to use it to keep up with prices to retain their real earnings.
While many of the Scottish government budget numbers are standing still, and some are being squeezed, only a few are going up. Sports and tourism spend go up in Commonwealth Games year, and then down. Housing is going up, but after a sharp fall over recent years.
And then there's something called "parliament business and government strategy". That, it turns out, is the bit that handles the cost of negotiating independence.
It's in addition to the money for running the referendum - £13.7m - and some more for "strategic communications" linked to the campaign.
But with the referendum mid-way through the financial year 2014-15, that could be the first of two very busy years for wide-ranging start-up costs for new administrative systems across welfare, defence and foreign affairs.
'Masochism agenda'
The cost of "administration" has been sharply cut, from £278m to £198m between 2009 and 2014. It's part of a "masochism agenda", to show that ministers are willing to inflict the deepest pain on their own offices.
There are those inside St Andrew's House who wonder how the civil service can find the resources to negotiate independence when it has taken a 25% cut in numbers in the past three years, and when those who remain have had real terms effective pay cuts of more than 30%.
But there's more coming into the system. Page 127 of next year's draft budget shows that "parliament business and government strategy" is costing £9.8m. Next year, there's a budget of £29.4m, followed by £46.2m in 2015-16.
That's the year when SNP ministers hope that they'll be negotiating independence with a newly-elected Westminster government, and when they hope the constraints on such spending will be getting removed.
It's a lot of money when budgets are tight. But who's to say if it's enough?