Fife textile services firm Fishers cuts losses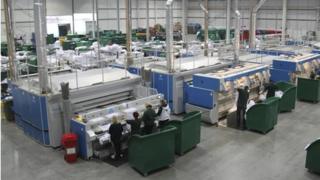 Textile services firm Fishers saw losses narrow last year, as turnover and operating profits increased.
The Fife-based company reported pre-tax losses fell by nearly £500,000 last year to just over £3m.
It said the losses stemmed from finance charges and interest payments relating to a previous funding structure.
The business has since refinanced on improved terms and attracted £5m in funding from existing investor Caird Capital.
Cupar-based Fishers provides linen rental, workwear hire and cleanroom garments to the hospitality, leisure, manufacturing and pharmaceuticals sectors.
According to accounts filed with Companies House, turnover rose 4% last year to £33.3m, while operating profit increased by 38% to £2.9m.
Employee numbers peaked at more than 800 in 2012.
'New chapter'
Fishers managing director Bruce McHardy said: "Our 2012 growth was achieved against a challenging background and is all the more pleasing for that.
"The refinancing of the business in 2013 represents a new chapter in the Fishers story and provides the long-term funding which allows us to continue to invest in the business and look forward to further success in 2013 and beyond."
Founded in 1900, Fishers cleans, irons and delivers more than two million items of linen every week in Scotland and the north of England.