STV targets international market with Red Arrow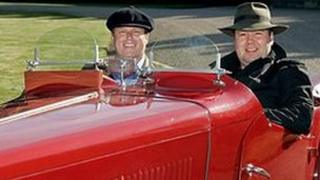 Broadcaster STV has entered a joint venture with a German-owned firm that will distribute its programme ideas for adaptation in foreign markets.
Its new partner, Red Arrow Entertainment Group, is already working on selling rights to STV panel show Fake Reaction, which is now in its second series for ITV2.
Other formats developed by STV Productions include Antiques Road Trip.
The multi-year deal with Red Arrow will involve investment from both companies.
STV Productions will continue its existing format deal with US production company Kinetic Content, which is part of Red Arrow.
In 2010, STV Productions announced an exclusive agreement to license each other's original formats in their respective countries.
From January 2014, Munich-based Red Arrow will also become STV Productions' worldwide distributors for completed programmes and formats, outside the UK.
Alan Clements, director of content for STV Productions, said: "We are hugely excited about the opportunities that this new agreement brings.
"STV Productions is an extremely ambitious content business and this partnership offers fantastic potential to build on the success of our business in an international market, while working alongside the creative and talented Red Arrow Entertainment Group team to develop brand new ideas for co-production."