Aircraft scrapping firm starts up in Prestwick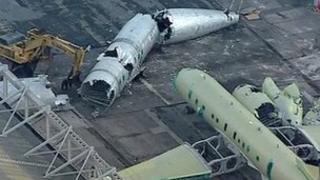 A Scottish company is to start up at Glasgow Prestwick airport, scrapping and recycling aircraft.
Caledonian Aviation plans to start by the end of this year and will create about 20 to 30 new jobs in engineering, sales and administration.
The company said it had already attracted $6m (£3.7m) from American investors.
It plans to work on one aircraft per month initially, stepping up to six within three years.
Caledonian said by then it could have about 200 staff.
Company director Struan Johnston said it had chosen to locate at Prestwick after a hangar became available when BA decided not to renew a lease.
'Unique position'
He said: "Prestwick's in a fairly unique position in that it's the last landfall before you get to the United States, and the European aviation market is not as well served as the United States for aircraft recycling - that's where we see the potential at Prestwick."
On Tuesday the Scottish government announced it was negotiating to buy the airport.
The Ayrshire facility, which was put up for sale last March by New Zealand-based owners Infratil, has been running annual losses of £2m.
Ryanair is now the only scheduled passenger airline using Prestwick.
Mr Johnston said: "There's an awful lot of businesses that surround the airport and that make up the aerospace cluster and we'd like to be part of that."
He added that some used plane parts can be fitted to new aircraft, such as the interior panels of a 737 and the wiring and undercarriage.
The aircraft scrapping industry is estimated to be worth $1bn (£625m), a figure which could treble within five years as older planes come out of service.
The only other locations in the UK where this type of work is carried out is Cotswold Airport near Cirencester and at Bruntingthorpe in Leicestershire.