Singapore firm EEW Energy Services picks Glasgow as base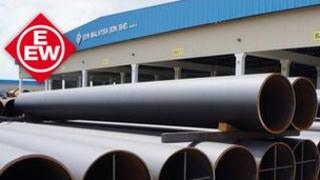 A steel supplier from Singapore has chosen Glasgow as its first UK base.
EEW Energy Services (EEWES), which focuses on the oil and gas and renewable energy sectors, has invested an initial £6m in its new operation.
Up to 15 new jobs are being created by the move.
EEWES, which has a network of steel mills and manufacturing facilities in Asia, Europe and the Middle East, also announced a £1m deal with Belfast-based Harland and Wolff.
Under the deal, EEWES will supply steel for the Humber Gateway Substation Project, an offshore wind farm which could supply enough power for 170,000 UK homes.
The company is largely funded by Germany's EEW Group.
'Ideal location'
Chief executive Michael Craig, who is a former managing director of Murray International Metals, said: "The combination of our Singapore and Glasgow operations will bring the UK energy sector direct access to a worldwide supply chain for oil, gas extraction and renewable energy sectors.
"Glasgow has proven to be an ideal location for our first UK base. The city offers access to an excellent calibre of staff, great facilities and travel links to major cities and airports.
"Initial recruitment is under way, and we have already appointed senior commercial staff and are recruiting further quality management, logistics and sales staff on an ongoing basis."