North Lanarkshire Council raises £45m in property deal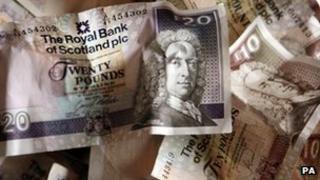 North Lanarkshire Council has raised £45m through an "innovative" commercial property deal backed by financial services provider Barclays.
Under the scheme, the council's portfolio of 975 commercial properties is transferring to a new arms-length limited liability company.
Barclays is lending money based on future rental income.
The council said it had taken the step in order to tackle financial challenges it was facing.
The limited liability partnership, North Lanarkshire Properties, was created after a steering group was set up by the local authority in 2011.
The Barclays loan will be repaid over a period of 25 years, with the interest rate fixed for the first 10 years.
North Lanarkshire Council leader Jim McCabe said: "This is a truly innovative approach to some of the challenges we face.
"As our revenue budget has decreased it was important for us to be able to meet our commitment that services would be maintained to the highest possible standards."
"This deal also secures a clear approach to our commercial property portfolio.
"I am pleased that the enormous amount of work undertaken has paid dividends and has secured best value for the people of North Lanarkshire."