Inverness Airport upgrade under way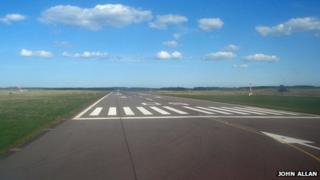 The operators of Inverness Airport are launching the latest phase of a multi-million pound upgrade of the airfield.
Hial is investing £1.4m on a project to resurface the airport's mile-long runway, which handles about 31,000 flights a year.
The project, which will involve replacing 1,800m of existing tarmac, will extend the life of the runway for a further 20 years.
Work has also begun on a £1.2m taxiway extension.
The extension will provide a link from the main runway to Inverness Airport Business Park, in order to open up the area for future development.
The work, which is being carried out by Colas Ltd, is expected to take up to 12 weeks.
The runway resurfacing will largely be undertaken at night to avoid disrupting the airport's scheduled operations.
The connecting taxiway extension is being constructed simultaneously.
'Challenging project'
Hial managing director Inglis Lyon said the resurfacing project was "challenging and complex", given the airport's volume of traffic.
He added: "However, the runway is one of our most important assets and this essential work will help extend its lifespan and ensure the airport is able to accommodate the forecast growth in demand for air travel.
"The extension of the taxiway system to Inverness Airport Business Park is also a significant investment for the future.
"It will allow aircraft access to the emerging business park and enable the development of key maintenance, repair and other ancillary facilities on the site.
"We will do everything we can to ensure that both projects are completed on time and do not disrupt normal airport operations."
The latest investment in the airfield follows the completion last year of an £850,000 project to upgrade the airport's main parking area for passenger aircraft.
The investment means larger aircraft types can now park next to the airport's arrivals area, allowing passengers to disembark much closer to the terminal.
The project also allows the airport to accommodate more long-range aircraft such as the Boeing 757.