Fan Duel's bases loaded for a touchdown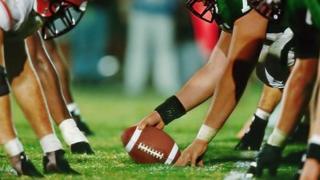 There's a little piece of Edinburgh which is forever Fenway Park, Wrigley Field, the Mile High Stadium and Air Canada Centre.
It's a company I've been visiting that trades in the fantasy of sport. And some.
Unusually, Nigel Eccles, the co-founder and chief executive of Fan Duel, measures his business first by how much he's giving away. Last year, it was 50m US dollars. This year, he's on target for $135m.
A bit like Twitter, which launched on the New York Stock Exchange this week with a lot of hype and hope over any sign of actually turning a profit, investors in Fan Duel are backing the strategy to grow the company rather than cash in on it as soon as possible.
This year, it's spending $9m on winning new customers. That's through advertising online, on sports radio and TV. Happily, sports enthusiasts are not difficult for the marketing department to find.
Sports lovers
The company wins their custom with daily or weekly fantasy plays, in American football, baseball, ice hockey and basketball. It only trades in North America, and of course, it rolls with the sporting seasons.
In the US, it enjoys a legal exemption from being classified as gambling. Instead, legislators see fantasy sport as a wholesome, sports lovers' game of skill. They know their voters well.
This being the height of the American football season, the idea is that you spend much of the week researching your team, seeing who's on form, and picking different positions according to the limited budget you've been set.
Come the weekend, the real teams take to the field, and you win fantasy points according to how well your real players do. North American sports are driven by player statistics. And it's numbers that determine those big pay-outs.
The market is huge. Nigel Eccles says there are around 35 million fantasy sports players. Perhaps less surprisingly, 95% of them are male.
There are other big players in the fantasy sports field, such as Yahoo and ESPN. But Fan Duel is carving out its own niche, using a team of around 30 in Edinburgh. They're mainly the IT specialists.
In New York, as many people work on sales and marketing. Two years ago, it opened the New York office, and decided that a company like this had to have an American headquarters.
That puts Nigel Eccles into New York for around half his time. But as with many technology firms, the workforce is dispersed. A vice-president of marketing is based in Los Angeles.
Hot for investment
I've been to visit Fan Duel for this week's Business Scotland programme, in its home at the east end of Edinburgh's Meadows.
That's where it's the largest single occupant of the Tech Cube, a seven-storey centre for early stage technology firms.
The former Dick Vet School re-opened last December and already has 35 tenants, with hot desk space for newcomers who want the space and the like-minded company in which to work up a business plan.
From my visit there, one clear theme that emerged was that this sector thrives on incomers to Scotland - often people who have come here as students, and opted to stay.
There are lessons there for those in charge of immigration policy, as the difficulty of getting work permits for recently-graduated students is one reason British universities find possible recruits going elsewhere.
There are other reasons incomers choose to run their companies out of Scotland. Some of the biggest hopes in technology are run by men who came here for the love of a good woman. It's less clear government can do much to encourage, er, that sort of thing.
Anyway, Tech Cube's managing director Jamie Coleman told me there's been a big uplift in interest from international investors since nearby Skyscanner secured investment from Sequoia tech fund giving it a valuation of $800m. Suddenly, Edinburgh became hot for investment.
You can hear about Fan Duel and some of the other companies that explain why that's the case, on the iPlayer or podcast.