Scottish hotels 'outperform rest of Britain'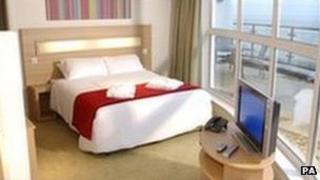 Scottish hotels had a bumper August and outperformed the rest of Britain, according to a monthly survey.
Business advisers BDO found hotels north of the border enjoyed higher occupancy and revenue levels than their counterparts elsewhere.
Revenue per room in Scotland rose by 13.3% to £78.70, compared with just under £48 in regional UK, £42.79 in England and £42 in Wales.
Occupancy levels also outstripped other parts of the country.
The percentage of rooms filled reached 89.5% in Scotland, compared with 78.8% in regional UK, 76.8% in England and 82.9% in Wales.
Inverness, Glasgow and Edinburgh racked up higher occupancy figures than Aberdeen.
Revenue soared across all four Scottish cities in the survey, with Edinburgh the highest at £116.85 per room - only £3 lower than London.
BDO said Edinburgh's hotels were boosted by record attendance figures for this year's Edinburgh Festival and Fringe shows.
'Positive month'
Alastair Rae, from BDO, said: "These figures reveal another positive month for Scotland's hospitality sector.
"The expression 'making hay while the sun shines' never seemed more appropriate for the sector during August, which saw revenues of £78.70, which was over £30 higher than Scotland's national counterparts in the rest of the UK."
He added: "Another month of strong figures must provide some reassurance to Scotland's hoteliers, who have had a difficult few years.
"This year would appear to be a return to form for the sector and will provide a welcome revenue boost for many owners."