Loganair sees profits and turnover take off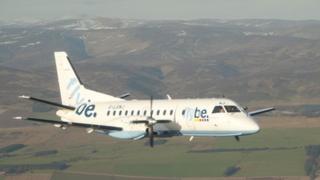 Scottish airline Loganair has reported soaring profits and turnover, following a strong rise in passenger numbers.
The group saw turnover increase by 20% to £87m for the year to the end of March, while pre-tax profit rose by 24% to more than £4.3m.
Passenger numbers climbed by 12% to a record high of almost 592,000.
Loganair said its results had been helped by the temporary grounding of part of the North Sea helicopter fleet from late 2012.
It added that oil firms required more fixed-wing aircraft after Super Puma EC 225s were grounded in the wake of two ditchings off Aberdeen and Shetland last year.
Loganair, which operates 26 aircraft, said its results had come against a backdrop of "an ongoing difficult period" for domestic aviation in the UK.
During the last financial year, the Flybe franchise partner added two new routes to its network, taking over a Norwich to Manchester service and a Glasgow to Leeds service from Flybe and BMI Regional respectively.
But it also withdrew its scheduled services from Dundee Airport last December, blaming the proximity of Edinburgh and its wide choice of flights for the move.
'Good results'
Executive chairman David Harrison said: "Our good trading results mean that our financial position has been further strengthened, so that we continue to operate without debt.
"It is further encouragement that the new financial year has started well, with passenger numbers in our core scheduled services in the Highlands and Islands and beyond showing some growth.
"There is also a healthy level of charter work being maintained, an area which has continued to make an important contribution to the business.
"The temporary grounding of part of the North Sea helicopter fleet from late 2012 has led to an increased requirement for fixed-wing support to the UK offshore sector, and we have been pleased to provide effective solutions to a number of key oil industry customers.
"We're hopeful that this will lead to longer term opportunities from Aberdeen."
Loganair operates scheduled services under Flybe livery in mainland Scotland and Orkney, Shetland and the Western Isles.