Glasgow City Council sets target for new businesses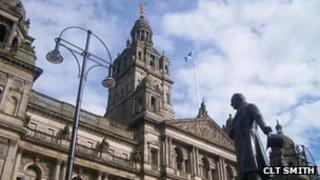 Glasgow City Council has announced plans to help a further 2,000 new businesses set up in the city over the next four years.
The local authority is to invest £1.5m in a series of measures to achieve the target.
They include establishing a business loan fund and a business development fund.
The bid to expand the city's business base will be overseen by a new Glasgow Enterprise Board.
The council said that while "significant economic progress" had been made in Glasgow, further measures were necessary, particularly to help establish and sustain new and existing firms.
It will work with the business community, academia and the financial sector to get the enterprise board up and running.
'Independent thinking'
Council leader Gordon Matheson said: "The board will provide independent thinking to encourage entrepreneurship and enterprise in our metropolitan economy.
"And it will deliver on our commitment to increase the number of businesses.
"The most recent figures show 18,000 businesses in Glasgow. We will set a target to increase this to 20,000 by 2017."
The plans include setting up a £1m Business Transfer Loan Fund to help entrepreneurs buy established going concerns and a £500,000 Co-operative Glasgow Business Development Fund which will be open to social entrepreneurs.
The council will also create a network of business graduation centres and increase its support for the eSpark programme, which helps companies in their early years.