Car firm Peoples' best profits in 30 years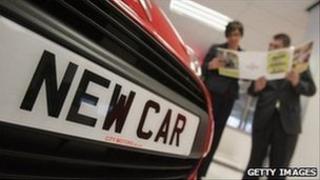 Motor dealership Peoples has unveiled its best set of results in its 30-year history.
The company doubled pre-tax profits for the year to 31 July to £4.05m on a 27% increase in turnover of £185.9m.
Ford specialist Peoples sold 15,000 vehicles in its last financial year.
The firm employs more than 400 people at seven dealerships in Scotland and the north-west of England and said it would consider further acquisitions "if the right opportunities arise".
Chairman of the Peoples group, Brian Gilda, told BBC Scotland: "The market between mainland Europe and the UK is different.
"Southern European countries are having a torrid time and as a consequence the manufacturers are still having to build cars and they're bringing them into the UK.
"There are some fantastic products with great access offers and the public are recognising that now is a good time to buy a car."
Mr Gilda added that his company's performance had been achieved "against the backdrop of a domestic economy which is still constrained and a European economy which is far from benign".
He urged Chancellor George Osborne to inject certainty into the economy in his autumn budget statement.
Peoples is due to take delivery of some Mustang models next year.
Mr Gilda said it had taken Ford a long time to decide to export to the UK but were now building some right-hand drive models.
He said he expected them to be "drop dead gorgeous".