New home building figures decline by 14% in Scotland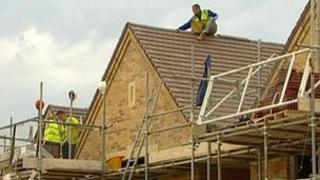 Fewer houses were built in Scotland in the year up to June compared with the previous 12 months.
A total of 13,478 homes were built, which is down 14% from the previous year.
The Scottish government said the difference was caused by economic conditions and UK budget cuts.
Liberal Democrat MSP Jim Hume accused the government of "ducking facts" and urged it to address the "housing crisis".
The quarterly housing statistics show a decrease in new social homes, private sector homes, and housing association homes in comparison to the previous 12 months.
Housing minister Margaret Burgess insisted that housing was a high priority for the government and stated that 16,000 affordable homes have been created since the start of its term in 2011.
She said: "Today's statistics show we are on track to delivering our commitment of 30,000 affordable homes during the lifetime of this Parliament.
"However they also underline the continued negative impact that challenging global economic conditions and Westminster's cuts to our capital budget have had on house building activity in Scotland."
In response to Ms Burgess, Liberal Democrat housing spokesman Jim Hume said: "The housing minister cannot duck the facts. Since the SNP government came to office it has slashed the capital housing budget by 29%.
"With an ageing population and a projected rise in the number of single person households in Scotland, it is folly for the SNP to allow this housing crisis to worsen. Margaret Burgess must set out a clear path towards building more homes for social rent."
'Not enough'
Scottish Labour's housing spokeswoman Mary Fee said that Scotland was facing a housing crisis that was "entirely the SNP's making".
She added: "They have slashed capital spend on housing, obliterated grants for housing associations and failed to fully mitigate against the impact of the bedroom tax which is having a devastating impact on social landlords.
"It's time for the SNP to make housing a priority before this crisis spins out of control, we want to see a comprehensive and ambitious housing plan that takes Scotland off pause and provides support for house builders and social landlords to build new homes. Anything less is just not enough."
The Scottish Conservatives said the Scottish government was not doing enough to incentivise construction in Scotland.
The party's housing spokesman, Alex Johnstone, said the latest figures were "deeply worrying".
He added: "There has been a decline in private sector completion, which the Scottish government will have been aware of for some time.
"But it has failed to compensate for this with social housing projects.
"This means that people will be languishing on the housing list for even longer than they feared.
"The SNP clearly lacks ambition for the long-suffering construction sector and would-be home owners and tenants."
The Scottish Parliament is due to debate housing on Wednesday.