Charity urges action over 'growing digital divide'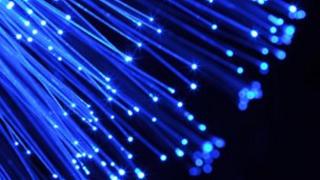 More must be done in Scotland to improve internet access and skills in order to tackle a "growing digital divide", according to a report by a leading educational charity.
The Royal Society of Edinburgh (RSE) said more than a million Scots, and most small businesses, lacked online access or basic digital skills.
It urged ministers and councils to take steps to boost digital participation.
RSE cited broadband costs and access difficulties as the main obstacles.
Responding to the report, the Scottish government said it understood the importance of digital inclusion.
In its interim inquiry into digital participation in Scotland, RSE said those excluded from online activity were increasingly excluded from opportunities for employment, education and social interaction.
Its report argued that Scotland should draw on the examples of Iceland, Sweden and Norway, where broadband connectivity and use were above 90% despite "rugged geographies and low population densities".
RSE added that the figure for Scotland was currently about 70%.
The report, called Spreading the Benefits of Digital Participation, said that while geography in Scotland was a barrier to broadband access for some, particularly in remote regions, the cost of broadband connection was the major obstacle for most of those who remained offline.
Digital literacy
It called for much more public access to the internet, arguing that Scotland should explore other ways to provide affordable digital access, including local networks for communities and in social housing.
Its recommendations included equipping all public buildings and new builds with a broadband internet connection.
The report also urged the Scottish government to improve digital literacy by ensuring that the Scottish education system was equipped and able to provide education and training in software and systems technology, informatics and computer science.
It said "governments at all levels" should ensure that subsidies were available to provide connectivity and loans of equipment to bring communities online, while enterprise agencies should provide similar support to local small businesses.
It also called on the Scottish government, local public service providers and third sector organisations to ensure the "usability and accessibility" of public sector websites.
'Undeniable right'
The report stated: "The Scottish government must recognise that every individual in Scotland has an undeniable right to digital inclusion and assume accountability for ensuring that everyone can share in the benefits of a Digital Scotland.
"The Scottish government and local authorities must act now, and work together with private and voluntary sector partners to bridge a growing digital divide."
RSE inquiry chairman Prof Michael Fourman said: "At present some 1.3 million people in Scotland are either not online or lack basic digital literacy skills.
"Many of Scotland's 113,000 small and micro-businesses are not online or do not make full use of digital tools.
"As the digital revolution continues, those who do not participate will be increasingly excluded from society and the economy."
He added: "Digital exclusion is strongly linked to other forms of deprivation and risks deepening existing social divides."
The Scottish government has set out a strategy for Scotland to become a "world leading digital nation" by 2020.
It includes an undertaking to invest more than £240m in extending next-generation broadband access to 95% of premises in Scotland by 2017/18.
Digital inclusion
Culture Secretary Fiona Hyslop met on Wednesday with Mr Fourman and public, private and third sector partners to discuss the report and its implications.
A Scottish government spokeswoman said: "The Scottish government understands the importance of digital inclusion and in fact contributed financially to this report to provide an independent perspective on tackling this vital issue.
"We have recently signed contracts to provide next generation access to 95% across Scotland and will be actively promoting digital participation as this new network rolls out across the country, and the Scottish government, working with SCVO, have appointed a director of digital participation to help get our most digitally excluded communities online."
The Scottish government is due to publish its new strategy on digital participation in the New Year.
The RSE's interim findings have been put out for consultation, with a final report expected in the spring.